Affordable website development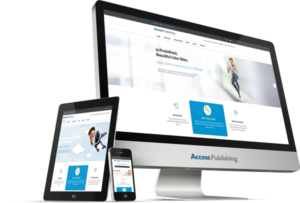 If you are in business, you need a website. Just like a sign on your building, you need a site to convey basic information to current and potential customers. We make it easy for you to communicate your basic information. You don't need to sell anything online to be successful with your online marketing. The goal of a basic business website is to convert browsers into buyers and have them call or walk in the door. Today's buyers will browse two or three competitors' websites to see who can best serve their needs. Your phone number, address, map, logos, photos, products, and services are critical to your online presence. Our basic website development package is a perfect fit for any small business. It includes an interview, analysis, keywords, copywriting, graphic design, and search engine optimization. Your website will help get your business found on the web.
The basic website package includes;
Home Page
Services Page
About Us & Testimonials Page
Contact Us Page
Additional pages $75 each.
Service includes
Interview and planning with client
URL selection and purchase
Copywriting, editing, photography
Graphic design and photo editing
Site design for search engine optimization
 
Get started by calling us or coming into the office today.  Call us at (805) 226-9890
 
Keep your site fresh
The most effective way to keep your site noticed online is fresh content. It's the most powerful form of SEO on the Internet. You can call us, drop by the office, or email us to make changes to your site all year long.  So when you need assistance writing and posting about new products, services, employees, and crafting news articles, press releases, blog posts, or special offers, just give us a call. Ongoing writing, editing, design and consultation are only $125 per hour.
 
View websites we have built for clients in our portfolio.
Local specialists
Access Publishing has 20 years of experience and expertise in local small business marketing and advertising. We help business owners craft compelling messages to potential customers. Use our expert writers, graphic designers and SEO specialists to help bring more sales in your door. Access Publishing specializes in serving small businesses in Paso Robles, Atascadero, Templeton, San Luis Obispo, Grover Beach, Pismo Beach, Shell Beach, Avila Beach, Oceano, Arroyo Grande, Nipomo, Morro Bay, Los Osos, Cambria, Cayucos, Harmony, San Simeon, Creston, Heritage Ranch, Oak Shores, Shandon, Santa Margarita, San Miguel and all of San Luis Obispo County. •
 
Posted by Scott Brennan Access Publishing, 607 Creston Road Paso Robles, CA, 93446
Email: [email protected] 
Call: (805) 226-9890