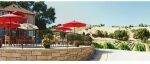 4125 Peachy Canyon Rd, Paso Robles, CA 93446
4125 Peachy Canyon Road
Paso Robles
California
93446
US
Nestled within a rolling landscape of oak trees of Paso Robles' Peachy Canyon, Michael Gill Cellars offers potent and exquisite world class wines. The west side Paso Robles coastal estate takes full advantage of the excellent natural conditions: the mountainous territory is known for its rocky, calcareous soil, and differing levels of hillside sun exposure allow vineyards to be specifically sited for each varietal.
This gives founding vintner, Michael Gill, the opportunity to cultivate luxurious wines unmatched in quality. Inspired by the historicism and beauty of illustrious French hunting lodges, the tasting room inspires images of time gone by. Nestled in the midst of surrounding vineyards and centuries-old oaks, it evokes a classicism and indulgence often unfound in Paso Robles.
Come join us for a fabulous outing of westside wine tasting in Paso Robles, CA. Explore our Central Coast vineyards and unique tasting room.
History:
In the early 1970's Michael Gill began his own practice as a dentist in Bakersfield. In 1977 during his weekend retreats to the central coast, Gill visited a barren 25 acres for sale in Peachy Canyon. At the time he acknowledged he had little intuition of the potential this property had for growing grapes. However his friend Robert Nadeau recognized its potential and lay out the grid work for the vineyard in 1998. After years of hard work, the perfect temperature and premier sole has created a perfect grape growing property. Now Gill Cellars is producing a modest 1,000 cases annually, ensuring quality and control in every bottle.
About:
Growing up in the oil fields of Taft, Gill was first introduced to fine wines during his postgraduate years in dental school. His best friends parents were professional photographers, and were hired to create extravagant displays of fine wine, cheeses, and food. The fate of these displays were at the mercy of Michael and his friends appetites, which would act as the initial catalyst of his taste for fine wine.
Reviews:
"This is one of the most exciting tasting rooms I have ever been to. Its not to often you get to experience world class big games animals, in a beautiful central coast location. Walking in to this wineries you cant help but notice the massive polar bear, and a collection of animals you would never see unless you visit. On top of the wild game they have amazing wines, with grapes grown right on the property. This is on my Best Wineries in Paso Robles list for a reason. Stop By and say Sherry and Dr. Gill next time your out wine tasting." – Yelp User
Specials:
All wine club members get a 20% discount on all wine purchases.